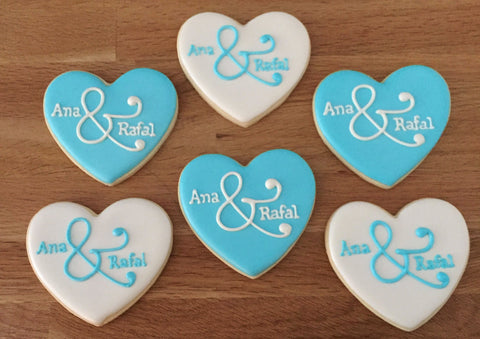 Sweet Sweet Love!

Product Description
Each set comes with 12 (twelve)
handmade sugar cookies decorated as heart-shaped cookies inscribed with first names. For customized orders, please send us a message.
Please select your emoticons when placing your order.
** IMPORTANT **
1. Please note our minimum order is of 24 cookies
2. Before placing your order, please send me a message to confirm the availability on my schedule.
For customized orders, please send us a message.
Ingredients: Icing Colour, Icing Sugar, Butter, Eggs, Meringue Powder, All Purpose Flour.
MAY CONTAIN TRACES OF NUTS.
Ready for Pick up/ Delivery: 20 days
Expedited orders can be accommodated according to our production schedule. Please get in touch for more info.
Important:
Although properly packaged, we can't guarantee the integrity of our cookies once shipped due to circumstances beyond our control.
All sales are final. No returns or refunds are accepted.
We can't offer discounts on bulk orders, although appreciated. The baking and decoration of each cookie is a non-scalable process, individually done by hand, that requires a set amount of time and care.
In-person pickup is always preferred over shipping. Cookies are fragile and need to be handled with care.
Please get in touch for orders of 10 sets or more.
Related Products
---